When it comes to Sir Walter, you want to be sure you are getting the real deal and not some non-genuine low-quality imitator. To ensure you get only the highest quality, you must look for Sir Walter DNA Certified turf.
With a qualified process backing it, this is the only way you can get the high-performing quality Sir Walter turf without any doubt.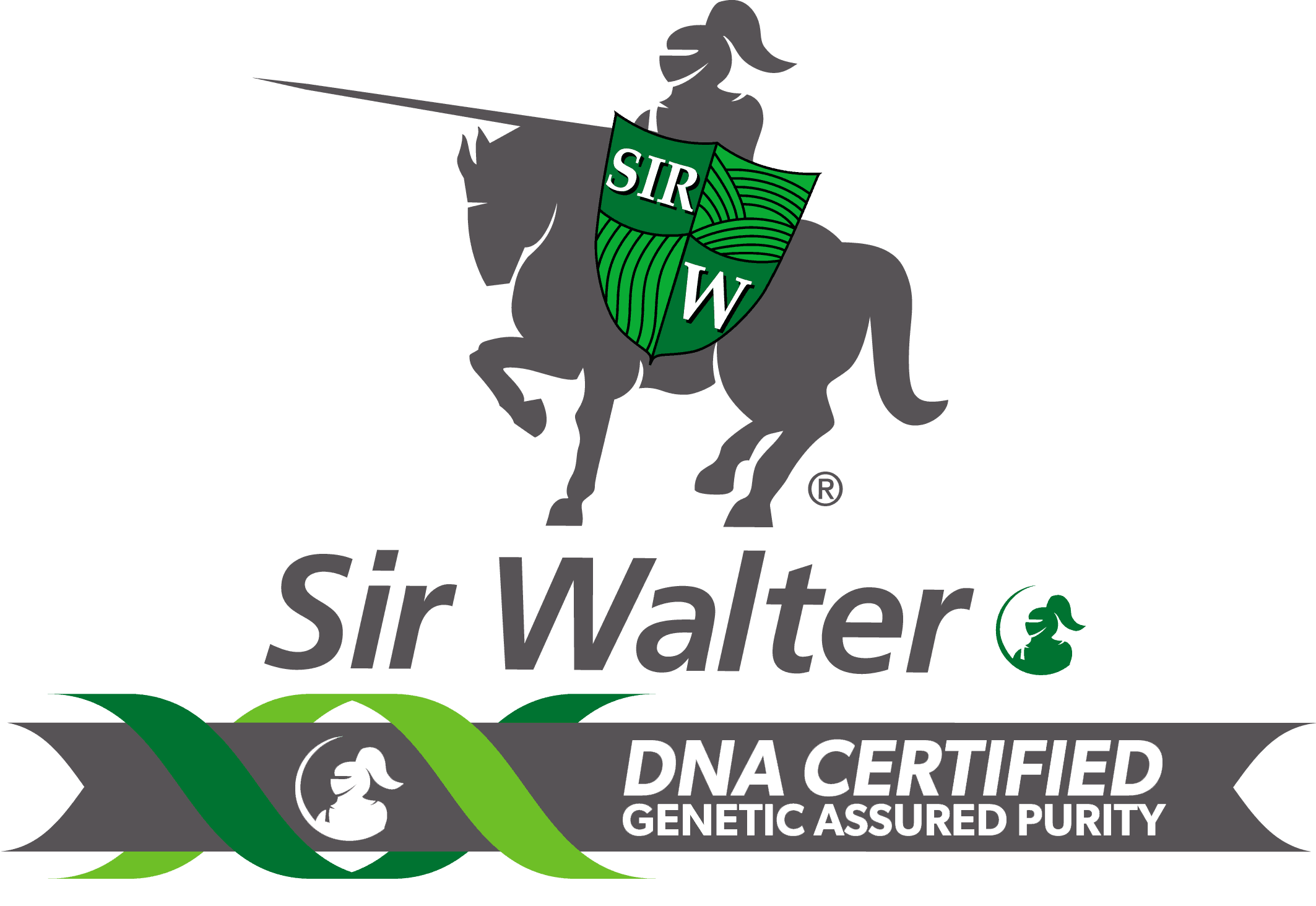 What does DNA Certified mean?
DNA Certified is a turf certification system enforced by Lawn Solutions Australia (LSA) that guarantees turf is genetically pure, with the product meeting the highest of standards. DNA certified means it is genuine turf that has not been tarnished from the original creation.
Sir Walter DNA Certified can be identified through its gold and black stamp that has an 'original breeder guaranteed' tick of approval on its logo. To guarantee it is real, a Certificate of Authenticity stating you are receiving genuine Sir Walter will be given as proof when purchased.
10-Year Turf Warranty
Further emphasising their faith and trust in the DNA Certified Sir Walter grass, LSA also supplies a nationwide 10-year product warranty. No matter the size of turf purchased, you are always backed by this warranty!
Genetic Assured Purity
Just like all our turf varieties, Sir Walter DNA has been AusGAP approved. This means you can have further peace of mind knowing this turf variety is as genetically pure as it gets thanks to the DNA Certified turf having the final approval from AusGAP.
From the creation and production all the way through to the delivery, this variety is handled to the highest of industry standards. This way you have assurance that our turf is as pure as our service and is quality through and through.
Buy Sir Walter Turf Now
Ready to give your lawn a whole new look? Order the amount you need and you'll have fresh Sir Walter grass in no time.
Frequently Asked Questions
Interested in learning more about Sir Walter DNA Certified Turf grass? Below, we list the features
that make it such a popular turf variety!
How often should I water my Sir Walter turf?

It depends on the season. The seasonal weather will help you determine how much you should water your Sir Walter Buffalo lawn. As a drought-tolerant turf, it will require less water than other varieties. However, you should still water your turf one to two times a week in the hotter season to maintain its colour and health. You can water it once or not at all during the colder months.

Can you deliver my Sir Walter turf?

We certainly can! As a leading turf supplier in Sydney, we know our customers don't always have access to a vehicle that can fit their Sir Walter turf order. That is why we offer a delivery option to Sydney and Wollongong suburbs with each order for an extra fee, as an alternative to pick up.

How much is Sir Walter per metre?

At J&B Buffalo Turf Supplies, we like to deliver our customers with affordable prices, and this is no exception for our Sir Walter turf. Currently, we sell Sir Walter at a great price of $20 per square metre.

How big are the rolls of Sir Walter?

Just like most of our turf, a roll of Sir Walter is usually 1.7 metres long and 0.6 metres wide. This makes it a total of 1 square metre.

I don't have time to lay Sir Walter, can you help?

Yes, we can! We know a lot of our clients don't have the time to lay their brand-new Sir Walter turf. That is why for an extra fee, we are able to provide our customers with turf installation. This way you don't have to worry about finding the time, but you also know it is getting professionally installed.